Blending
The art of blending is to combine each batch of Cachaça searching for the proportion that leading to the perfect balance between the different nuance of aromas and taste, an art that requires sensitivity and dedication. This is the obsession of the Master Distiller.
The artisanal process of fermentation, distillation and storage of spirits in barrels and vats result in Cachaça with a great diversity of aromas and flavors. The successive batches are stored separately in the cellars in such a way that each has an identified physical, chemical and sensorial profile.
The talent of the Master of Distiller blending the various batches ensures profile consistency, resulting in perfectly balanced Cachaça, while also allowing the creation of differentiated products.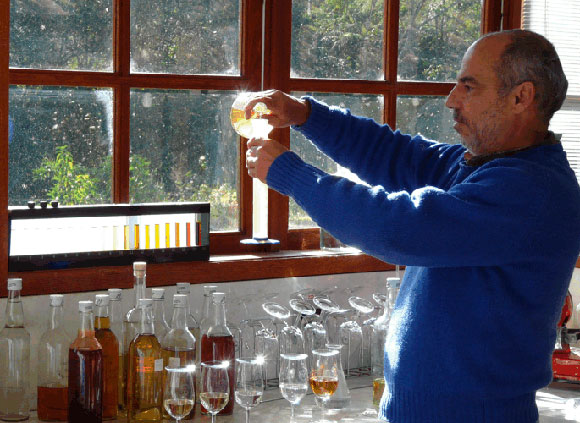 The water used for the adjustment of the alcoholic content is captured directly in the springs located in the mountains of owned by Fazenda Soledade. Its quality and lightness do not require any chemical treatment. It is altitude water, captured before any human contact and naturally demineralized.
The products of Fazenda Soledade are prepared with dedication and exclusivity to bring to consumers, with absolute assured quality, all the wealth and diversity of Cachaça.